UFC 196 Betting - McGregor vs Diaz
While I'm stoked for Diaz, I'm gutted we got hammered because of it.
A disappointing result for Allsop but I know those red numbers next to this year's profit are only gonna make him more determined to turn things around for the next Brisbane card.
Keep doing what you do Allsop!
Got to hand it to Conor, he takes it very well.
Doolb, if you ad Conors words to the video of the finish, it´s pretty much exactly what he said he would do to Nate if Nate was still conscious when he got dropped, right. I´ll pass into mount, I will crush you and I will choke you unconscious. Or something like that.. :wacko:
Topic starter
06/03/2016 4:23 pm
Shocking performance from Conor. He showed true inexperience in this fight.
He head hunted from the very first second and showed Nate no repect.
When you head hunt, you often end up gassing out or losing a fight due to inactivity. Conor gassed out and paid the price.
He didn't control range, he didn't throw any body kicks, he didn't use any leg kicks and he kept wrecklessly leaping into range. He became predictable and he used none of the tools that got him this far. Where were the kicks? Why was he fighting in Boxing range? Why was he throwing wild looping hooks and uppercuts?
He showed Nate no respect and gassed out after fighting like Tyron Woodley.
Conor has always said that he is in control of his destiny and he wouldn't be changed by his success like other fighters have in the past such as Jon Jones, but that performance showed that he believed his own hype and didn't stay true to the things that have got him this far.
You can't play games in the cage. Shocking performance.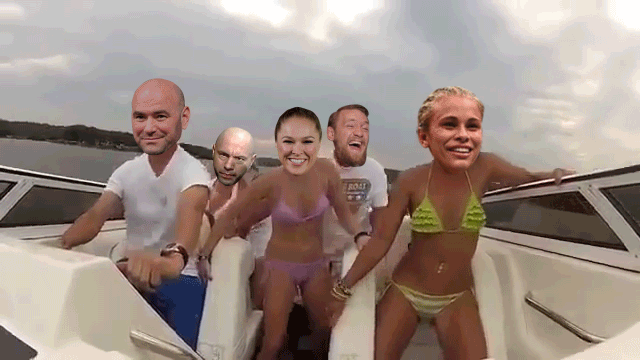 Hubris - excessive pride or self-confidence.
synonyms: arrogance, conceit, haughtiness, hauteur, pride, self-importance, egotism, pomposity, superciliousness, superiority; More
I was under the impression that he would not fall to the curse of hubris. He is always very arrogant pre-fight. But when you watch any of his fights (Diamond, Aldo) he switches over to an extreme business like mentality of getting a win. But he did not do that with Nate. He was more focused on putting on a spectacular KO because like myself he thought Nate couldn't do anything. To be fair. Nate couldn't do anything. He was getting fucked up.
Conor has stated before that he will do anything to win. That the win was more important than anything. So I was convinced he would switch over to beat Nate by a decision if he had to.
Last factor. Which I didn't think of. But he obviously had more muscle for this fight....he is not used to fighting with that much muscle. Muscle burns through energy at a torrid pace. He usually has 10-15 pounds less muscle.
Instead of a 2-3 unit bet on RDA for perhaps a win. I lost 10 units on Conor because I don't think Nate is that good. Horrific night for me.
Notice last night. Anyone who is even possibly remotely on the USADA watch list lost last night
Conor
Silva
Holm
Thatch
Skelly
Everyone who you know for a fact is clean won.
Miesha
Nate
Elkins
Bahadarzuda
Diego Sanchez
I overestimated holms power I dumpe d 90 units ko @ 2.40 but I put 10 unit @ 4.40s on diaz
ouch yeti.... thats rough man, we'll bounce back on the next card yo
-11.5U Need to reassess my Unit sizes at the end of the month. Chins up and on to the next one.
1u loss for me but I'm still up 8 units this year.
Aldo and Edgar are both about 2.60 | +160 dogs against McGregor at the moment. I hope I can get Edgar at those odds if that is McGregor's next fight.