Our losing bet on Tim Means at UFC Fight Night 125 last weekend derailed a strong winning streak that we had built up since the beginning of the year. Means did not look as sharp as he usually does on a night where almost all the non-Brazilians looked much flatter than usual. Despite his lackluster performance I still feel like he did enough to win, but unfortunately, the judges did not agree. This is especially disappointing because it was a big 5 unit bet and the vast majority of media members scored the fight in favor of Tim Means:
Leading up to UFC Fight Night 125 I spent most of the week in the Chat Room telling you guys that I thought it would be a bad event for Live Betting. Instead, we ended up banking another huge profit. UFC Fight Night 125 turned out to be one of our biggest winning nights in a long time. This is especially surprising because we didn't place a single Live Bet until we were more than halfway through the card: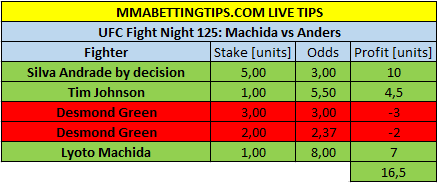 Initially, I thought that UFC 221 would be a good card for betting, but after finishing my main card research, I am not so sure. I am hoping that the prelims will present us with some good opportunities, but I am also conscious of the fact that we see much more variance and more unpredictable outcomes on the big PPV events. For some reason we more commonly see fighters underperform on the PPV cards, so I will need to feel extra confident in a specific fighter's chances of winning before I pull the trigger on them.